---
Off The Cuff
Pop-Up. Group Exhibition, Georgetown, 3345 M Street NW, Washington, DC. May 6 – 11, 2016. Opening party May 6, 6 – 9 PM. Presented by Reynolds Gallery.
---
Reynolds Gallery
Speed Bump, solo exhibition, January 8 – February 19, 2016, Richmond, VA.
---
David Richard Gallery
RE-OP: 'The Responsive Eye Fifty Years After', group exhibition, October 2 – November 21, 2015, Santa Fe, NM
---
Addition to permanent collection of Virginia Museum of Fine Arts, 2013.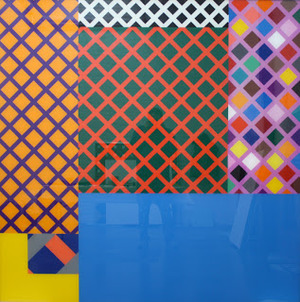 Richard Roth, a painting professor at Virginia Commonwealth University in Richmond, began his career in the late 1960s when Minimalism and Conceptual Art predominated in the art world. Untitled (yellow corner)dates from that time and nods to the essential modernist form of the grid (Piet Mondrian, Ad Reinhardt, Sol LeWitt), while subjecting it to rotation, misalignment, and high-keyed color. In effect, Roth created a "maximalist" rather than minimalist painting—although one still within the bounds of hard-edged geometry.
— John B. Ravenal, Sydney and Frances Lewis Family Curator of Modern and Contemporary Art, Virginia Museum of Fine Arts
Untitled (yellow corner), 1971, Richard Roth (American, born 1946), enamel paint on glass, 72 x 72 in. Sydney and Francis Lewis Endowment Fund
---